Steven and I are so happy that you found OneMillionBubbles, that you want to spread joy around the world, and that you want to know how to make the most of your participation. Steven created this event so that Balloon Designers and their communities would be a little happier, a little more joyful, and a little more hopeful.
Read on for tips and ideas for making the most of your OneMillionBubbles experience.
Where To Display
If you are under a Stay At Home order, please seriously consider displaying your work at your home. We do not want you to risk yourself or your community to spread joy.

If you are able to travel, consider displaying your work in front of a grocery store, medical center, police station, fire station, or central community location.
Gaining Press Coverage
Your results will vary in gaining press coverage. With the March 26th event we saw coverage from:
To get their attention here are some things to try:
Email their news address with the information on the

Press Kit

page

If you know a reporter, email/call/message them

Send a Tweet to reporters

Call a tip line

If you reach someone, ask them who else you should share it with.
Gaining Social Media Coverage For Your Display
Here are some ideas for helping others who want to take pictures or selfies of your work:
Put up a simple sign that says "#SelfieStation" next to your display

Let your community know ahead of time what you're doing and where to find it

Create something people like to be seen with (super heroes, frames, etc)

Encourage other art-focused groups and businesses to join you with their creations
How To Let Your Community Know
If you're planning to participate, here are some ways to get the word out to spread awareness and some more joy.
Share your plans on social media in the days before you display

Contact your chamber of commerce and/or City and let them know of the event and your plans

Share your plans in Facebook Groups focused on your community

Send an email to your local contacts

Tweet to or tag on Facebook and Instagram your local city government or tourism profile, police department, fire department, or hospital, letting them know about it, or with your design photos.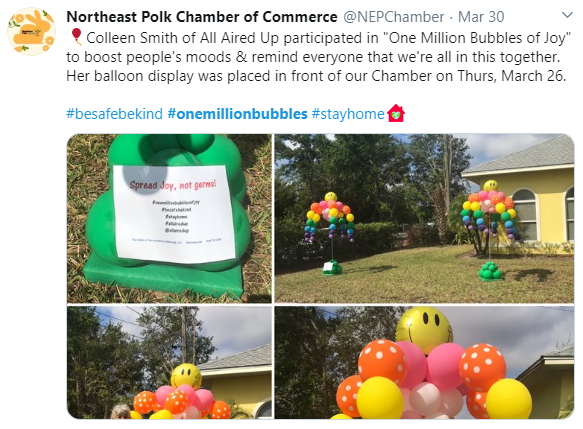 Gaining Live Stream Viewers
Here are some ideas for gaining live stream viewers:
Do a short live stream the day before on Facebook or Instagram, letting people know what you're doing, when they can see your creation and where they can find it. Ask viewers to share your post and spread the word.

If you're making something kid-friendly, spread the word about the stream with local parent groups. Facebook Groups is an easy way to find relevant groups of interested people.

Ask your or your friends' kids (age 10 to 18) for ideas.