Video conferencing use is growing quickly and with Coronavirus exploding around the world it has launched to another level. This article provides "pro tips" for using Zoom for video conferencing. Please send me your tips and recommendations so we can add to this article. Email
Zoom Window Layouts
Zoom offers several window layouts. Experiment with all of them so you know when you want to use each one:
Full Screen
Gallery View
Mini-Window
There are also layouts specific to when you are sharing content which are significantly different. For more information, see Zoom's article covering layouts and examples.
Video Conference Chat
When you're in a video conference there is typically a group and private chat capability. To open the chat window click on the chat cloud icon. You can chat in two ways:
To Everyone
To One Participant (aka Private)
To change between Everyone and a private chat you simply click the selection immediately above where you type.

Audio & Video Setup
When joining a conference plan to join about 5 minutes early so that you can verify that your audio and video are working properly.
If you are connecting via a laptop or desktop computer you may have multiple speaker and microphone options.
If you need to adjust settings click the up arrow next to Audio or Video.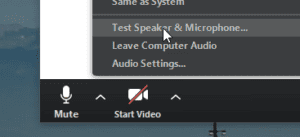 Fake Video Backgrounds
Sometimes what is behind you is not suitable for the level of professionalism you need to show in a video conference. 
Zoom offers a Virtual Background feature that lets you choose an image to display behind you. It will try to automatically palce you over the background, and it does a rather good job.
Some images are offered by Zoom. I recommend using an image from Unsplash (free), Pixabay (free), or Adobe Stock (paid) to separate yourself from the pack.
I am regularly asked about my office background… so I know a virtual background makes an impact.
Use A Microphone
Laptop computers have built in video cameras and microphones but audio quality typically leaves a lot to be desired.
Studies (and my personal experience) have found that behind video lighting, audio quality leaves the biggest impression of professionalism when meeting over a video conference.
If you have a separate microphone or a headset with microphone, test using these to improve audio quality.
Lighting
Lighting your face sufficiently so that your video camera can easily see you pop out of your background impoves the level of professionalism of your presence.
Some ideas:
Position a window in front of you
Use a desk lamp in front of you
Use a dark colored background
If you record video, use one of your filming lights to improve lighting levels