There are so many options for building a website these days. As computers have become more efficient and more problems have been solved with them it has become significantly easier to get your website up and running. In this article we compare the four most popular options for creating a website so that you can make an informed decision on which platform to choose and why.
There are three types of website platforms:
Content Management Systems (CMS)
Website Builders
Raw Code
The world started with technologies like HTML. Then Javascript and PHP came along. Then the content management system was born where people were relived from the burden of knowing a programming language and could enter our content in a friendly way (WordPress is an advanced example of a CMS). Now, we have what is known as the Website Builder, which makes creating a website with a small number of look and feel and functionality options very easy.
Here is a snapshot of the four platforms we're covering here:
WordPress – The most popular content management system in the world! There are over 75 million websites that use WordPress as their engine and the number is growing very quickly.
Shopify – The hands-down winner when it comes to running a store online with over 500,000 websites.
Wix – A very popular website builder with basic website capabilities and basic store capabilities. There are over 100 million Wix websites.
Squarespace – Another very popular website builder with basic capabilities and the ability to run a store but lacking the scale of the other options.
Who is WordPress Good For
We recommend WordPress as a website platform to all our marketing clients, except when selling physical and digital products.
WordPress is the most flexible website platform in the world and easily grows with a business or organization. With WordPress you are taking on more management and layout responsibilities than the website builders. In return you gain enormous flexibility.
The ecosystem built up around WordPress is truly gigantic. There are plugins and integrations for everything you can think of, and most have a free tier of use. There are WordPress pros all over the world in every city, so you will always be able to find help.
That all said, the reason we do not recommend WordPress for digital and physical product sales is that Shopfy is the hands down winner in cost, ease, and effort for selling online.
Who Is Shopify Good For
Quite simply, Shopify is perfect for any business or organization selling physical or digital products. Shopify powers over 500,000 stores and is built from the ground up as a store platform. If you are looking to run a store, Shopify is the best eCommerce store platform available today.
Further, because of the large scale Shopify operates at, there is a huge ecosystem of help, support, and integrations with other systems that help amplify the speed stores can operate at on this platform.
Wix and Squarespace also have the ability to provide a store, however they are more focused on providing a non-eCommerce experience.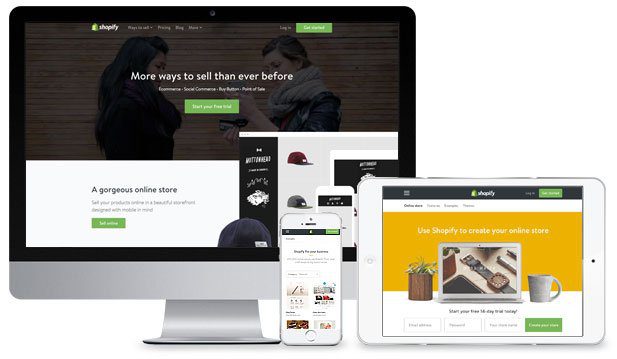 Shopify has over 1000 themes to choose from, handles all aspects of collecting payment and refunds, has built in shipping tools, and always-on fraud detection.
Regardless of how many products are in the store and how many orders are handled per month Shopify has a package that fits the need and the features to power it.
Some of the more notable features are:
High-conversion product pages based on images
Product categories
Modern, mobile friendly and effective themes
Inventory management
Coupons
Order fulfillment tracking
Social media selling on Facebook, Pinterest, and Twitter
Google Shopping integration
Built in credit card payments in 70 countries (no need to become a merchant)
Multiple staff logins
Integration with popular Accounting platforms, like QuickBooks Online
Built in fraudulent order detection and credit card fraud detection
Support is provided by phone, email, and live chat and is available 24/7/365.
There is also a Pro directory at Shopify to help you find people with track records of success to help with a store or changing a theme.
Shopify plans start at $9 per month for the ability to take orders on another website with a clever integration tool. At $29 per month full eCommerce store hosting is offered. At $79 per month many advanced features are unlocked like Gift Cards and Abandoned Cart Recovery. And, at $300 per month there are many large-store features such as real-time shipping quotes, advanced reporting integrations, and fulfillment integrations.
There is a free 14-day trial period which, if you have time to spend or are working with someone experienced in Shopify, is adequate to get a store up and running and taking orders.
Generally speaking Shopify is the absolute best platform for selling online. When you work with Shopify, they handle the technology and you handle your customers and products. Visit their website to learn more.
Who is Wix Good For
Wix powers over 100 million websites worldwide, more than Shopify and WordPress. Wix gained this position by starting with simple informational websites. Today there is advanced eCommerce store capability and support for many other types of websites.
Where the platform really shines is on informational websites where there is no store or a small store component. The reason for this advantage is that the Wix team has focused relentlessly on making the process of building a website, adjusting the layout, and writing content easy.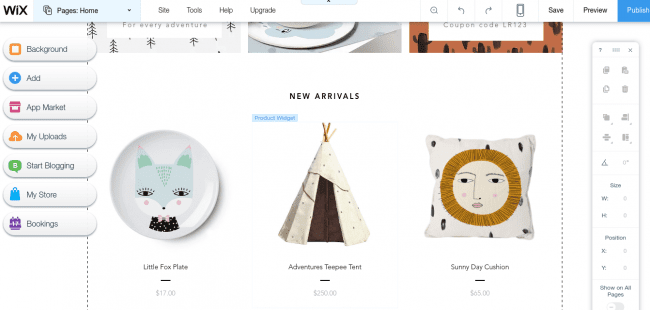 Wix offers all the same basic store features as Shopify however since it does not have the scale of Shopify there are not as many options and in some cases tasks are harder to accomplish (i.e. Inventory Management is harder in Wix). Wix now supports credit card payments in many "western" countries.
The primary drawback of using Wix is that flexibility is limited. As a business grows and needs more it typically "graduates" from Wix to another platform, either WordPress or Shoppify.
Wix offers a free 14 day trial to get a website online and running before committing.
Who is Squarespace Good For
Squarespace is a well known and respected website builder known for beautiful and mobile friendly website themes. Squarespace started as a really basic website platform and so it is best at informational websites. eCommerce store capability was added in 2016 and is slowly getting more mature, with all the basic functionality needed but without the integration and finesse of a platform like Shopify.
We do not recommend Squarespace due to the limited number of themes and features available.
Support is offered via live chat Monday through Friday and via email 24/7.
Of this list, Squarespace is the least recommended for two reasons: Lack of customization, Lack of scale. Wix wins in the website builder informational website space. Shopify wins in the eCommerce space. WordPress is the winner when it comes to flexibility on all fronts.
Squarespace plans start at $16 per month. At $30 per month eCommerce stores are provided and at $46 per month all features are unlocked.
Squarespace offers a 14 day free trial to get a website up and running before being committed.